Swedish referee, Anders Frisk has been one of the most controversial referees in UEFA history. In one of the most shocking events in football history, Frisk decided to retire after death threats from Chelsea supporters.
For those not aware, the referee is mostly remembered for his performance in the game involving Barcelona and Chelsea. He gave several questionable decisions in the entire tie and to this day he is scrutinized for how he managed that tie.
Being a referee is already termed as the loneliest job in football, a job that is never thankful and only the strong-willed can do well. Drogba's sending off was the tipping point, as everyone from players to managers attacked the Swede.
Specially Didier Drogba, who has a history of taking an aggressive approach towards referees in general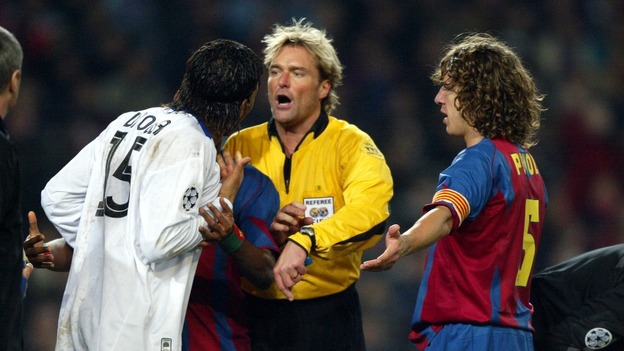 The respected 42-year-old Swede made the dramatic announcement after he and his family were inundated with threats from followers of the London club who had been victimizing them ever since he refereed their Champions' League game in Barcelona in February.
The Swedish referee called the 16 days after his retirement as the "worst of his life".
There have been threats on the telephone and via email and post, and my family has also been threatened. I have a big family and I have been worried – anything can apparently happen

Anders Frisk
In a sport that was already struggling to defy the accusations of racism and corruption, Frisk's retirement was the icing on the cake. Although things improved nowadays, the Swedish ref retired in 2005 saying that he's 'too scared' to step onto a football pitch.
Frisk had stated that he had identified Chelsea fans in the stadium as well as the ones who sent the threats from other countries and sent the report to the UEFA. One of the UEFA correspondents called it a shock and called it the lowest point of his time in UEFA.
This is outrageous, and this abuse of referees is getting worse and worse and worse. This is getting out of hand. It's disgraceful.

One UEFA Correspondent
Frisk had to be given police protection and was advised by Swedish detectives to go into hiding.
It's terrible that this kind of thing should have to make one of the world's best referees quit. It is a damn shame that it is possible for it to go this far. Anders will have to talk about the details, but the threats have been serious enough for him to decide to quit. We have reached a limit now. We had Urs Meier … and now we have a similar case. Now it has to end

Bo Karlsson, Head of the Referees
One certain person who cannot be out of the picture when it comes to the controversy is Jose Mourinho. The current Tottenham head coach accused then Barcelona manager Frank Rijkaard about being in contact with the referee during half time. The report was submitted to the UEFA correspondents and they started the investigation.
It is not true (the accusation). The ones who are saying this (Mourinho), I have to say that it is not correct attitude from them to comment like this after the game

Frank Rijkaard, Barcelona manager
Karlsson joined Rijkaard and staunched an attack on then Chelsea manager by telling him to take some responsibility upon the false accusations.
Managers and the rest of the staff have got to act a lot more responsibly than the players. The players behave just like their leaders

Karlsson
Chelsea managed to win the second leg 4-2, however, Mourinho was called guilty of the Frisk treatment and was given a 2-match ban that saw him being given a stadium ban over both legs against Bayern Munich.
Even though the behavior of former Porto and Inter Milan coach remains under investigation, the vilification of Frisk marked a new low point for the reputation of English fans at the time, who has recently been casting off their image as troublemakers and receiving plaudits for their conduct abroad.
Conclusion
It marks a low point for football as a whole. Due to both fans and managers being unable to control their emotions, we end up forgetting that those making decisions on the pitch are also, in fact, humans.