Manchester United U23 and U18 academies under manager Nicky Butt have been working tirelessly to produce gems to make sure that one of them if not most of them gets into the first-team squad at the very least. And there is a name that has popped up in recent times which looks promising.
He goes by the name of Zidane Iqbal. Yeapp, as you can see that the name itself makes the guy look extremely attractive. Whether he turns out to be like his namesake is a huge task to fulfill but there are things in the British-Pakistani youngster that we can definitely look into.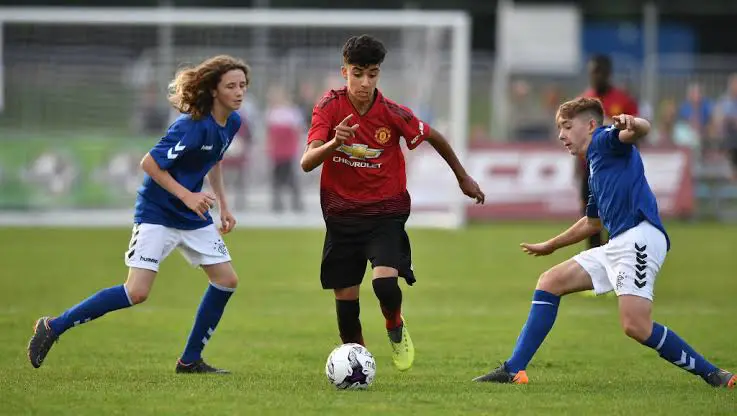 Profile
The player is basically a box to box midfielder who knows how to link up with his strikers and bring other midfielders, the wingers, and the overlapping full-backs into the game consistently. In addition to that, he's also a very skillful footballer.
As Liverpool has shown the importance of full-backs in the aspect of creativity within the team, Zidane Iqbal heavily utilizes the advanced position and delivers balls into wide areas for the wingers to take the opposition full-backs one on one.
Apart from that, he definitely understands the fact that in football, there are two sides of things i.e. Being in control with the ball and without the ball. We can see above that that he perfectly stopped a counter-attack by being at the right position at the right time. Hence, it also shows that he has football intelligence regarding his positional awareness. Apart from that, he loves scoring goals as we can see.
Manchester United fans may remember Dimitar Berbatov's brilliance against Wigan Athletic in 2008 when he did a similar sort of skill to set up Cristiano Ronaldo for the goal.
Conclusion
Zidane Iqbal has the potential to do very well in the future if he keeps his head straight. And if he makes it to the first 11, one day. He can be a fan favourite just by these comments.
If I take things into the perspective of his country that he belongs to, even though a normalization committee is in place, there seems to be no progress in Pakistan football or its scope. Zidane Iqbal is a talented player who will do wonders with Manchester United U18s, potentially U23s and further. Sadly, it seems that Zidane representing Pakistan on the international stage might remain a myth.