When you think of one of the most underrated players in the Premier League from the last decade, Nemenja Matic will definitely tick that box. The Serbian International has been very crucial to both Chelsea and Manchester United for his time so far in England. His attributes and stability has made him undroppable for many managers in the Premier League.
We analyze how the current Manchester United #31 has been in the Premier League since 2014.
Nemanja Matic's return to the Premier League
After Jose Mourinho had returned to the club he once was so successful from 2004 till 2007, Chelsea was in the hunt for a proper defensive midfielder as an Essien replacement. The answers were stuck between a former Chelsea player Nemanja Matic and the current Chelsea CB, David Luiz.
Mourinho is the kind of manager that allows a player to stay committed to one specific job, so he never allowed Luiz to get that freedom and eventually sold him to PSG for around 35 million.
He bought Matic from Benfica for 21 million on a 5 and a half year contract in January 2014. He collected his first man of the match performance against eventual champions Manchester City in a 1-0 win where he showed exactly what he is capable of. Immense reading, tackling, and awareness. However, Chelsea finished 3rd in the Premier League and lost to Atletico Madrid in the Champions League semi-final.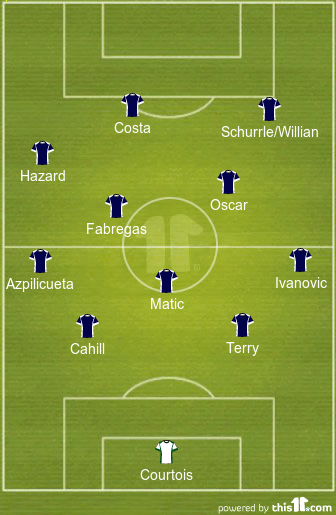 In the 2014/15 season, Chelsea deployed him in a 4-2-3-1 along with Cesc Fabregas in which he gave cover to both the Spaniard and Oscar so they can be the supply lines to Hazard, Willian, and Costa. However, it's his attribute in that season which is so crucial.
Matic's Positioning and Impact
Matic's awareness and positioning were incredibly pivotal which kept their midfield together. Whenever Ivanovic and Azpilicueta had the ball and charged forward, Matic used to stay back ahead of Terry and Cahill to ensure defensive stability within the team. His partnership with Fabregas ensured that they won their 4th League title and 3rd under Jose Mourinho.
After a disastrous following season in which Chelsea finished 10th after sacking the Portuguese coach, Chelsea signed the former Juventus manager Antonio Conte on a 3-year deal. Even though the Italian manager struggled initially, he went back to the drawing board and initiated a 3-4-3 system that he deployed back in his Serie A days and currently utilizes it at Inter Milan.
The responsibility of Matic under Mourinho was completely different to what it was under Conte. Now, he had another defensive midfielder in N'Golo Kante alongside him. The Frenchman who was fresh off being part of the greatest fairy tale in Premier League history at Leicester, joined the blues in 2016.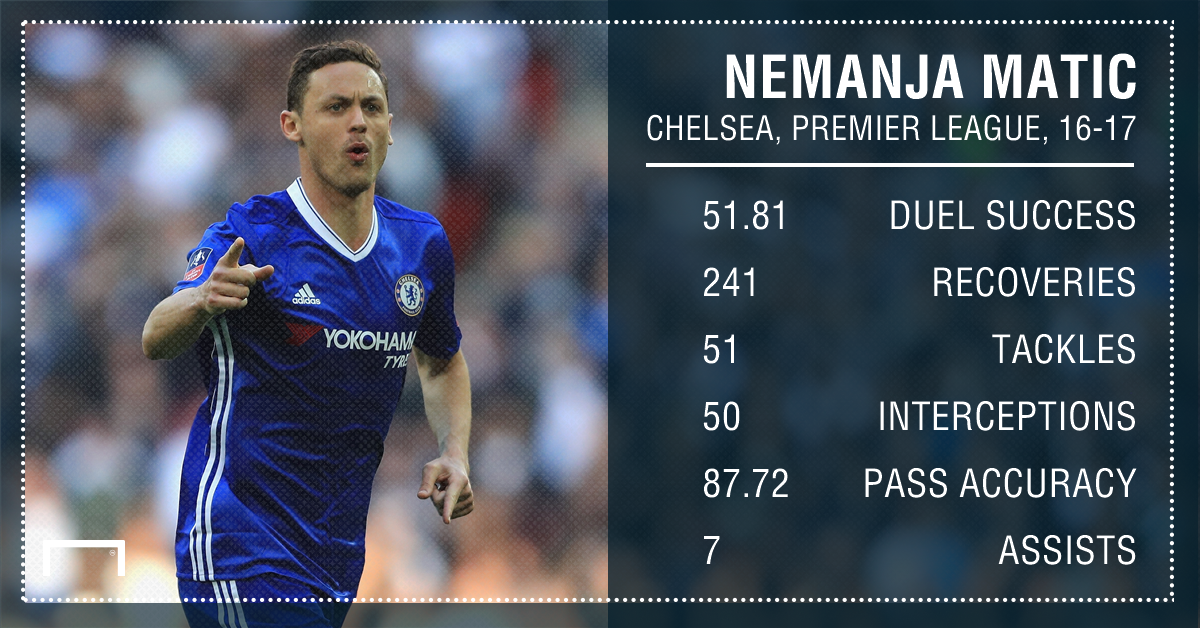 Matic now had to be the supply line along with the recovery maker. He was successful in that as Kante's emergence in the defensive midfield position allowed him to dictate play with the ball and he had 7 assists till the start of January 2017 as a result of it. His partnership with Kante was pivotal in Chelsea winning 11 games in a row. He was being crowned the English champion again under Antonio Conte. It was his 2nd title in 3 years.
As we can see that the roles were completely reversed from his 2014/15 days to 2016/17 days. It shows that Matic was willing to compromise on any of his roles for the welfare of his team. The season of 2017 was pivotal in Manchester United upgrading on one of the positions and Chelsea degrading. Matic was off to the red side of Manchester for 30 million and Chelsea replaced him with Bakayoko. Many reports are to be said that the selling of Matic was pivotal to Conte losing his job the following year.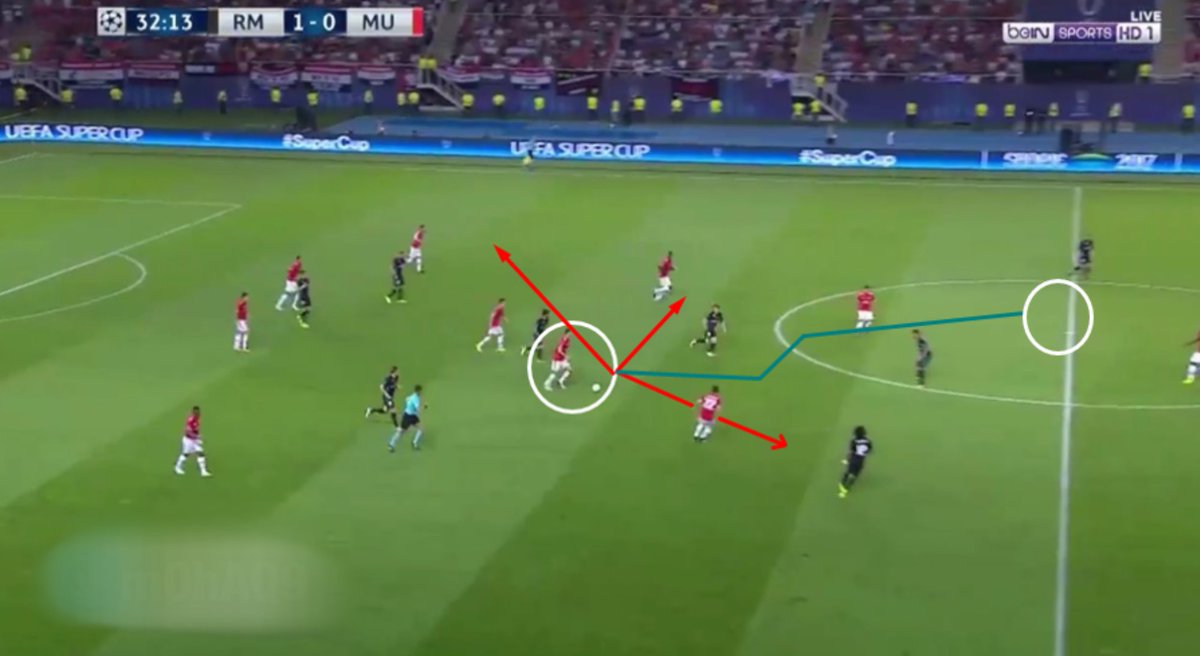 Matic was an island of personality, quality, and reaction to the defeat we suffered against Sevilla.

Jose Mourinho after the Brighton win in the FA Cup 2018
Matic got his first man of the match in his Premier League debut for Manchester United in a 4-0 win over West Ham. His calmness and solidity ensured that United had an extra player in their quality of football as all the defensive responsibilities were on him and he allowed Pogba, Mkhitaryan, and Mata to supply to Lukaku. Just like his 2014/15 season, he used to sit behind two creative outlets and supplied them with the ball once he recovered the ball.
United won today (against Stoke) because we had control of the game. Even though we drew against them last season, but we never had the control that we had today

Jose Mourinho
Reading the Game
Maybe Jose was speaking about Matic here. As we can see that Matic's positioning and awareness by sitting in front of the center-backs allowed the center-backs not to come up so that no easy balls are played for the opponent strikers to get behind them.
A poor start to the 2018/19 season saw Jose Mourinho being sacked by Manchester United and replaced by their former striker and former Cardiff manager Ole Gunnar Soljskaer. Matic was integral to the club's winning run in 3 months. His partnership with Herrera and Pogba ensured that United stayed in the hunt for top 4 and beat PSG on away goals in the Champions League.
Mourinho played Matic every game after his surgery in the World Cup which affected his performances. Many fans wanted the Serbian international gone in the 2019 summer window.
However, Ole Soljskaer is currently managing his defensive midfielder really well. Sir Alex Ferguson didn't allow Rio Ferdinand to play every game by giving chances to Phil Jones and Chris Smalling. Ole is managing Matic with McTominay and Fred that gets the best out of the Serbian.
Just like under Mourinho, Matic sits at the base of the triangle in Ole's reign with Pogba and Bruno Fernandes occupying the advanced areas and creating chances for the strikers. That means that he once again acts as a shield ahead of Maguire and Lindelof.
Additionally, he recovers the ball on high press whenever the team wanted to come through the middle to ensure that the team keeps possession and keeps the attacks going.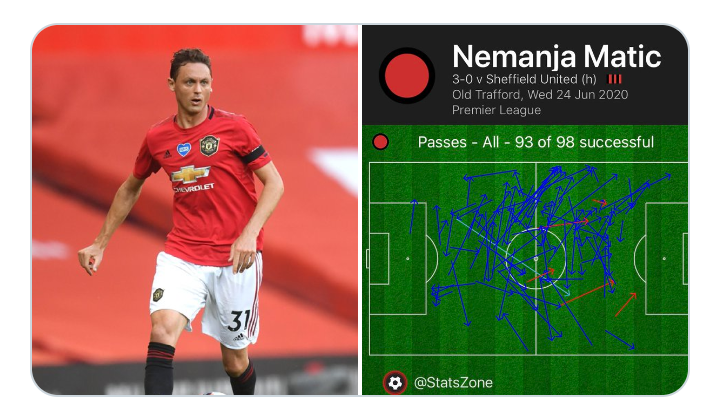 Conclusion
Now as he approaches his 32nd birthday, the United manager Soljskaer is very pleased to see the Serbian extend his stay as he will bring experience to his side.
Having added and promoted young players like Wan Bisakka, McTominay, James and Greenwood to the squad, he knows how vital it is to create a blend between youth and experience to ensure United start winning things again. Matic's extension is just what he needed for that to happen.